I see different kinds of fitness drumming all over youtube. I wanted to do a fitness class using more traditional music, rather than all of the pop music. If you look at some of the published programs out there, they are very expensive and there is no traditional music used. I have done a lot of research and figured out a way to make it work for very little money. I do it as a before school program from 7:30-8:15. It is tricky because I pick up the kids from the front door and then we go to the before-school lady's office to pick up the equipment. I used a rolling crate to move the lunch totes and the kids have to carry their own balls. If one student isn't there, we don't have enough balls, although I have solved that problem somewhat by carrying one ball on top of my lunch totes and keeping a couple of balls in my portable. I give the kids on-time tickets that accumulate toward prizes if they get there within the first 5 minutes. I just started that and think it will help get them there on time.
Drumsticks
Drumsticks are REALLY expensive and if you read about most of the less expensive ones, they break easily. I found a pinterest idea for wrapping PVC pipes. I actually had PVC pipe already cut in my new classroom.
Make your own by buying 1 inch PVC pipe from your hardware store, such as Home Depot or Lowes. Cut them to about a foot. I believe those stores will cut them for you if you ask. Buy electrical tape from those stores in whatever colors you want. I bought it in blue and yellow, our school colors. Wrap them in stripes. They are very durable. After a month of using them, they are still in perfect condition and the kids are so busy, they don't have time to pull the tape off.
A Platform for the Balls
It is pretty inexpensive to buy Walmart tubs that my school uses for lunch totes. You can get a set of 8 for about $50. They are wide enough that it keeps the balls stable.
Get them online here
or just go to the store and buy them.EDIT: After using the Walmart tubs, I would advise that you get some more sturdy ones if you can afford it. The Walmart ones are thin and break easily. If you watch the nutcracker video, you'll see that part near the end where the kids turn their tubs over and drum on them. We had some tubs crack.
Balls
Balls are very inexpensive from amazon.com. They cost around $11 each. This one is a good, sturdy ball. You might find some less expensive ones. You can get various sizes of balls.
Get this one here. 
 (affiliate link)
Uniform
You could just use black pants and a t-shirt of the same color- even a school shirt all the same color. You could also look online for a shirt that works. I have decided to just have the kids wear black pants with the school shirt the school already sells.
Storage of Equipment
The one challenge of doing this program is how to store the equipment. In our school, the before school lady puts the balls in her office space. I have a couple in my room behind my desk. The lunch totes stack nicely as well.
We also talked about either using balls from one of the teachers who uses them for flexible seating or buying the balls with before/after school money and then offering them to a teacher to use in his/her classroom. For our program for now, we don't have that many that storing in her office is a problem, but we will see going forward. I was new to this school and the program is new so we have a small class for now.
How to teach it
I started out writing down movements and trying to read them but just doing it with a video works the best. There are little to no classical music videos out there so I have worked to find music to work with. A music teacher friend of mine bought the full (very expensive program) of one company. Her advice after doing their program is that all you really need are the videos. FYI.
Warm up
I found a great video for a good warmup that the kids love.
Classical Music
I found this one using the Can-Can that inspired me. We are doing this one, which the kids love. You can go into the youtube setting to change the video to a slower tempo for learning.
Christmas Music
I also found this video that is traditional Christmas music. We, of course, won't use the video. I wish I could find the music this is based on, since it is cut off at the beginning. We do this one at 75% speed so it is easier to do. Full speed is just too fast for us. I have also added more jumping on particular places to make it more physical. It is a great workout when you do that.
Creating Our Own Routine
Finally, I searched far and wide to find this great music to make our own routine. The first thing I did was to analyze the form of the music.
Here is the form of it: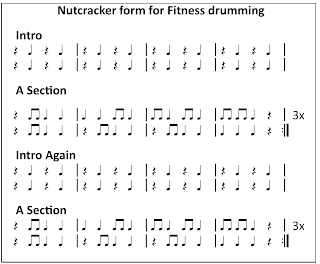 My kids made up the moves for this. I am pretty proud of what they've come up with. A tip for getting kids to make up good moves is to find other fitness drumming videos that you like to see some ideas of moves. If you look at the other videos I have above, you will notice some of the same moves in our nutcracker routine. I would take suggestions from the kids and then we would discuss and decide on what to do. Here is a link to our December assembly performance.
I just heard the soundtrack from the Trolls movie. In the Hall of the Mountain King from it would be another great piece of music for a routine. Maybe I'll use it next semester!
Have fun drumming up fitness!